Masonry
From design to completion Stewart Contracting is on the job for you!
Stewart Contracting will customize your brick and stonework to compliment both your landscape needs and your personal taste, including stone color. height and layering techniques. Each home is different and each stone application should be as unique in design as you are.
Edging and Borders
Patios
Walkways
Barns
Homes
Dry Creek Beds
Retaining walls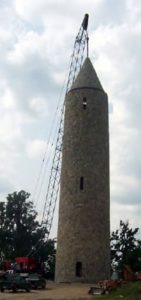 Kenneth Stewart was asked by the late Dr. Tony Ryan to fulfill a dream of his to build an Irish Tower on his farm Castleton Lyons in Lexington Ky to replica a round stone tower in Ireland that was built between the 9th and 12th century.
Mr. Stewart gladly accepted the challenge. In 2003 Dr. Tony Ryan flew Mr. Stewart from Lexington to Ireland.  There Mr. Stewart took all the measurements of the round tower at the Rock of Cashel in County Tipperary, Ireland. It measures 90′ around. Stewart and his crew built the round tower from the ground up, subcontracting very little of the work out.  All of the stone came out of the lake on the property. The tower is a 124.5 ft. tall structure with 144 winding stairs to the top it is centrally located on Castleton Lyons Farm. Although others still make claim of his project Stewart is the true contractor behind this project.  Stewart hopes that the tower becomes a landmark in the Bluegrass Region for residents and visitors for many years to come!